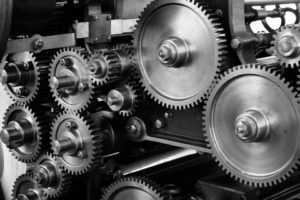 Project Name: Chain Wheels
Location: Pittsburgh, PA
Timing: July, 2009
Challenge: To manufacture two chain wheels based on a broken sample that was provided—no drawings were available. And to do it within an extremely tight timeline.
Solution: Reverse-engineer the chain wheels, including the complicated chain groove and pockets. Pittsburgh Foundry and Machine Company dismantled the piece to see how it was built. We then completed the drawings so that we could provide the customer with the new pattern and two newly manufactured castings. And we did it all within two weeks.
Sometimes you just need to take something apart to put it all together.
Woodings Industrial had an emergency requirement for special ductile iron castings, and PF&M Co. took on the challenging project schedule. They provided the required castings in the needed time frame while maintaining excellent quality. PF&M Co. provided a valuable value-added service.
–Al Colucci, VP Engineering, Woodings Industrial Corporation
Case studies are in the works!
Testimonials
We believe that the best measure of future performance is our past. Here's what our customers have to say:
On Expertise
Pittsburgh Foundry has continually exceeded our expectations year after year. Their commitment to service and continuous improvement has aided our machine shop in delivering to our customers as required. They strive to ensure that customers receive zero errors in service and have provided heroic recoveries when needed.
–Dan Terek, Buyer for Carl Strutz Co.
Pittsburgh Foundry and Machine Company has provided unprecedented customer service to our organization for over 20 years. When we are called upon to supply our end users with materials to maintain their equipment, we can take comfort knowing that we can rely on Pittsburgh Foundry and Machine, who provides the utmost support to fulfill those needs, not only in quality but also expediency. The Smith family is considered just that, a family organization with that personal care and touch.
–Grant W. Kennedy, Manager Global Services, Metso Minerals
On Service
PF&M Co. customer service has been extraordinary in the time that we have been doing business with them. They are reliable and stand by their commitments. We consider PF&M Co. a premium vendor
.–Rich Tommarello, Purchasing Manager, Woodings Industrial Corporation
In the time that PF&M Co. has been an active vendor with us, they have shown extraordinary customer service, on-time delivery, and an unmatched ability to make our job easier. We are lucky to have a vendor like PF&M Co. and hold them in the highest regard amongst our vendors.
–Zachary Liebman and Mandy Watson, Buyers, Woodings Industrial Corporation